So you have probably just recovered from the biggest work out of your life – Labour ! And despite the challenges of early motherhood you might be wondering when can I start exercising after giving birth ?
Me and my 2nd son only 5 days old.
Before you start exercising after birth please make sure you get medical clearance from your Doctor/Health professional.
Post delivery also make sure you discuss the following with your Doctor:
The type of delivery you had and if there were any complications and precautions you need to take.
If you had pelvic instability during your pregnancy – has it got better since having the baby ?
Breastfeeding – how it is going, how your energy levels are and if there are any concerns.
Are you experiencing any pelvic floor weakness – please see a Women's Health Physio.
Are you suffering from any other medical conditions, complications or injuries
Your postpartum blood loss
Your energy levels and mood – including baby blues & postnatal depression
General Information.
The earliest you should return to exercise is 6 weeks post natural delivery and 8 weeks post caesarean section and episiotomy -following review / clearance from your Doctor.
If you are attending a Group Exercise Class or Personal Training session make sure you discuss any concerns with your trainer – including pelvic floor weakness, pelvic instability, breastfeeding, back pain etc.
Urinary Leakage post-birth is NOT ok. Your pelvic floor muscles need time to heal and re-strengthen – so avoid any high impact exercise that will compromise this. Be aware that if you don't your could end up with a prolapse.
Begin exercising slowly but consistently – aim for 2 times a week and try to build to 3- 4 times a week – remember listen to you body, think slow and gentle, your body is still recovering.
Try group exercise with other new mothers, it is not only more motivating and fun but you will build a great support network.
Be realistic -Weight gain in pregnancy between 12kg and 20kg is normal. Remember it took 9 mths for your body to grow with your baby, so it is going to take at least that amount of time for it to return to its pre-baby shape.
Cardio Exercise Post Birth.
Remember your joints and ligaments will continue to be more flexible post birth due to the circulating hormones (relaxin) for up to 12 weeks or even up to 12 months after birth. If you are breastfeeding the circulating hormones that affect joint and ligament laxity remain in the system for longer. Because of this be very cautious not to over-strain any of your muscles – take it easy.
If you suffered from pelvic instablity during pregnancy you need to be very careful about walking or running. Keep your movements small and contained. I like to tell my clients – pretend you are wearing a mini skirt while exercising or to start exercising seated on a medical grade fit ball.
Your pelvic floor is a priority. Incorporate daily pelvic floor exercises from your Physio or Trainer. Avoid any high impact exercise.
Certain movements can exacerbate pelvic floor weakness (even in cases where a woman does not normally experience weakness). Avoid -high impact Jumping, Skipping, or landing on both feet at the same time. Instead focus on pelvic floor safe exercises – find out more about my sessions today.
Remember even if you have Pelvic Floor weakness many years after giving birth it can still be recovered. Your pelvic floor is just another muscle and with safe and effective exercises it can be strengthened. Speak to a Physio if you have ongoing problems.
Always wear very supportive clothing for comfort and to prevent injury – ie firm sports bra and correct footwear
As a general rule – try low impact exercise to begin with, this includes exercise on a Fit Ball for extra support, resistance training with light weights and Swimming.
As you get stonger you might want to add  some high intensity interval training (HIIT). Basically this means that you do intense exercise for 30 seconds and then scale back for a short rest (15-90 seconds depending on your fitness level). You don't necessarily need a gym or have to do high impact exercises to achieve this.
Pelvic Floor Safe HIIT Work Out.
Here is  super effective workout as it stimulates your metabolism and only takes 20 mins to complete. Start with a set of 2 – 4 kg dumb-bells in each hand seated on a medical grade fit ball. As your strength improves, move off the ball and increase your weight and decrease your rest to 20 sec.
30 seconds bicep curls, rest 30 seconds
30 seconds  side arm raises, rest 30 seconds
30 seconds tricep kick backs, rest 30 seconds
30 seconds lunges, rest 30 seconds
30 seconds squats rest 30 seconds
Repeat 4 – 5  times.
If you are not sure about the movements and maintaining correct form, why don't you book in for a session .
Post Birth Strength and Conditioning.
Light resistance/weight exercise is a great post baby workout as it is low impact.
Always start with light weights and listen to your body – it will take time to get your strength back to normal that is ok – remember giving birth is one of the biggest workouts every so recovery time is needed.
Gradually increase weights week by week or under the guidance of an instructor or trainer.
Don't forget as per above you still have hormones in your system which can cause your muscles to strain so go easy and slowly
Yoga and Pilates are a great option for Post Natal bodyweight resistance training.
Abdominals Post Birth.
Post birth most women are very concerned about getting their tummy back to a regular size.
Rectus separation or Diastasis Recti is a completely normal part of pregnancy – you needed this muscle to separate to allow space for your growing uterus. This separation is important as it prevents the Rectus from overstretching during pregnancy.
The muscle will gradually return to its normal or near normal length over time – so don't panic !
A 2 finger gap between the 2 muscles on the belly during a gentle crunch on the floor 6-8 weeks after birth is completely normal
Begin gently exercising your deep abdominal muscles and pelvic floor in the weeks post birth – these exercises are normally discussed in hospital with a physiotherapist. If you are unsure please contact your Doctor or Medical Practitioner
Learn how to safely engage your pelvic floor and deep abdominals during all core work.
Notify your Trainer or Doctor if you are experiencing any difficulty with back pain, pelvic pain or ongoing pelvic instability.
Try to wear a supportive belly brace or bandage or support underwear when you are not exercising. This helps you to be more conscious of your posture and"switching on" your abs during general movement, which help with strength and recovery
Sleep post birth.
Another very important point as part of your recovery is to try to sleep as much as you can. Sleep deprivation throws off hormones in your body that tell your brain when you are full and also inhibits fat loss. So if you are constantly sleep deprived and you are running on adrenaline, you are going to crave sugar, coffee and unhealthy foods. I know that as a new mother you are often dreaming of sleep. However if you can try to make it a priority and nap wherever possible it will make a big difference, plus you will probably have more energy so the thought of exercise will be more appealing.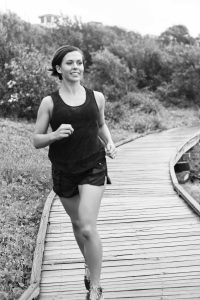 In Summary.
Remember your body is still in recovery mode and adjusting to its non-pregnant state. You will have your center of balance shifting again, the hormones of pregnancy will continue to make your joints a bit softer and then you have the constant feeling of exhaustion that can accompany any birth or newborn challenges.
please wait until you're given the go ahead by your Doctor before you start exercising post delivery.
ensure all your exercises are pelvic floor safe.
start small yet be consistent as this is the key to improvement in fitness and reconditioning.
maintain a healthy diet and excellent hydration pre and post exercise (especially if breastfeeding).
stop exercising if you have pain, increased bleeding, leakage or other complications.
think slow and gentle, make sleep a priority as part of your recovery.
Returning to your pre pregnancy body can take several months as your body adjusts to hormonal, diet and new motherhood challenges. Have realistic expectations and discuss any concerns with your doctor or certified trainer so they can help you reach your goals.
Finding time to exercise post birth ?
I more than understand that finding time to exercise is always an issue when you have a baby and for all of you working mothers and mothers of toddlers and newborns it is even more challenging.
Believe me when I tell you that I have to fight off guilt and to fit in my exercise. As mothers we put a lot of pressure on ourselves. The thing is I know that after an hour or even 20 mins of exercise, that time that is completely mine, I know I come back feeling energised, positive and I am a better mother to my 3 children.
Everyone deserves 30 minutes to themselves each day.
If you are working full time, try to get your exercise in on the weekends and if you can 1-2 days during the week. This may mean training  while your baby is sleeping or before he or she gets up in the morning. In my early recovery days I used do a postnatal exercise video or part of it when my baby napped. Even better join our Preggi Bellies classes are include Post Natal Mums and held during "baby friendly" times and some venues have child care.
I'm not saying that it's going to be easy. I'm just saying that it will be worth it.
Good luck !
xx Dal
copyright bodyfabulous fitness pty ltd.