What are Better Bump Bars ?
BetterBump bars are a low GI maternal and lactation bar, meaning that they have been specifically designed to meet the needs of pregnant and breastfeeding women.  Perfect to have in your handbag for when those pregnancy cravings hit, and also in the nappy bag to help boost your supply when breastfeeding.  Better Bump bars offer good, clean, healthy eating with extra support for mothers and mothers-to-be.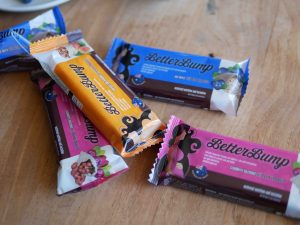 Who created BetterBump Bars ?
BetterBump bars are developed by Mother Hen Products – an Australian owned and run business, based in Melbourne.  Born from a passion for food and a lifelong interest in healthy nutrition, our bars have been developed in conjunction with a leading Food Scientist, Maternal Dietitian and are also endorsed by a leading Obstetrician.
Can you tell me about the ingredients ?
BetterBump bars contain important active ingredients including:
A probiotic – to protect your body from harmful bacteria and keep your digestive system working properly. This can also help with weight control, keeping cholesterol levels low and blood sugars in balance, speed up transit time of waste, and assist with the prevention of colon cancer and improve heart health.
Folic acid – helps the body produce and maintain new cells. Beginning folic acid supplementation before conception significantly reduces the incidence of birth defects such as spina bifida and anencephaly. Folic acid also reduces the risk of developing high blood pressure and anaemia.
Iodine – helps your baby's brain and nervous system develop. Lack of iodine during pregnancy has been linked to miscarriage, preterm delivery and still birth.
Calcium – taken during pregnancy, calcium helps mothers keep their own health strong whilst also shielding the health of their unborn babies, as the foetus' skeleton develops and requires a great amount of calcium.
Iron – during pregnancy, extra iron is needed for the growing baby and placenta, especially in the second and third trimesters. When pregnant, the amount of blood increases by almost 50% so more iron is needed to produce haemoglobin.  An iron deficiency during pregnancy is associated with preterm delivery, low birth weight and infant mortality.
BetterBump bars use only non-GMO (non genetically modified) ingredients and are low GI, meaning that they are safe for most women who suffer from Gestational Diabetes to eat.
BetterBump bars also contain galactogogues which are substances which promotes lactation and boost milk supply.
When should I eat a BetterBump Bar ?
From the moment a woman decides to start trying to conceive, she can start eating BetterBump bars as folic acid is recommended prior to conceiving.  BetterBump bars are great throughout pregnancy to calm those pregnancy cravings with a delicious yet healthy snack. For some women, BetterBump bars are one of the few foods that don't make them feel queasy during those morning sickness moments. BetterBump bars continue to be useful to mothers throughout the breastfeeding journey as well in order to boost milk supply for their baby.
 Where can I purchase BetterBump Bars ?
BetterBump bars can be purchased online at betterbump.com.au or at various stockists around the country.  See our stockist page on our website for details.
Enjoy special discount USE CODE : PREGGI QLD for 10% off your a box.
What are the BetterBump flavours ?
BetterBump bars come in 3 delicious flavours:
Cranberry and hazelnut with dark chocolate
Apricot and almond with dark chocolate
Oatberry with dark chocolate
These are available in boxes of 12, or you can set up a convenient monthly subscription to have your favourite bars delivered to your door.  And did we mention that shipping is free!