This months bellyfabulous woman is the beautiful Amelia and her son Ben.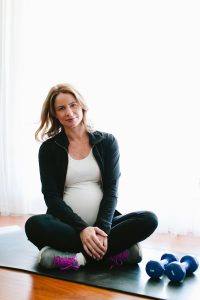 How many weeks pregnant are you ?
In this image I am 34 weeks pregnant
What did you do to keep active during your pregnancy ?
I worked right up until 38 weeks and as a teacher I do a lot of walking! I teach at a high school where my classes are all over the large campus so during the day I'm quite active and on my feet most of the time. I'm not a runner and don't go to the gym so in addition to this I would go for a few walks each week with my husband and dog around the neighbourhood.
Did you find eating nutritious and pregnancy safe foods challenging during pregnancy ?
Yes, definitely. My staple lunch prior to pregnancy was canned tuna and would take a salad to work and add the tuna but after listening to a podcast about the levels of mercury possibly affecting the baby's development I cut tuna out of my diet altogether. You can't eat cold meats and left overs are not advised so I found it very hard at work to eat nutritiously while at work. I craved juicy fruits so found that making a big fruit salad and adding a yogurt was a decent meal for me.
What were your favourite meals or snacks – especially if on the go?
Fruit salads were easy as I'd make a huge one at the start of the week and take a serving to work with me each day. I'd pack it full of delicious strawberries, blueberries, pineapple, watermelon. On the go, I always had a bag of nuts with me and would snack on these between meals.
Did you have any cravings ?
I didn't have any real cravings. I went through a phases of eating loads of mandarins though.
What are you most loving about being a Mum ?
So many things it's hard to pinpoint just one ! I love breast feeding and being able to provide that nourishment for my baby is very satisfying. For some reason I thought I wouldn't be able to do it but my son is a very good latcher and I've had great success from day  I also love the time I have with him while I'm feeding. It's a lovely closeness that strengthens our bond.
Amelia & Ben
We wish you all the best with your journey into Motherhood Amelia, Ben is beautiful x