Gestational Diabetes is the fastest growing type of diabetes in Australia. Gestational Diabetes (GD) only occurs in pregnancy. Currently up to 14-18% percent of Australian women are diagnosed with GD during pregnancy usually between the 24th – 28th week of pregnancy.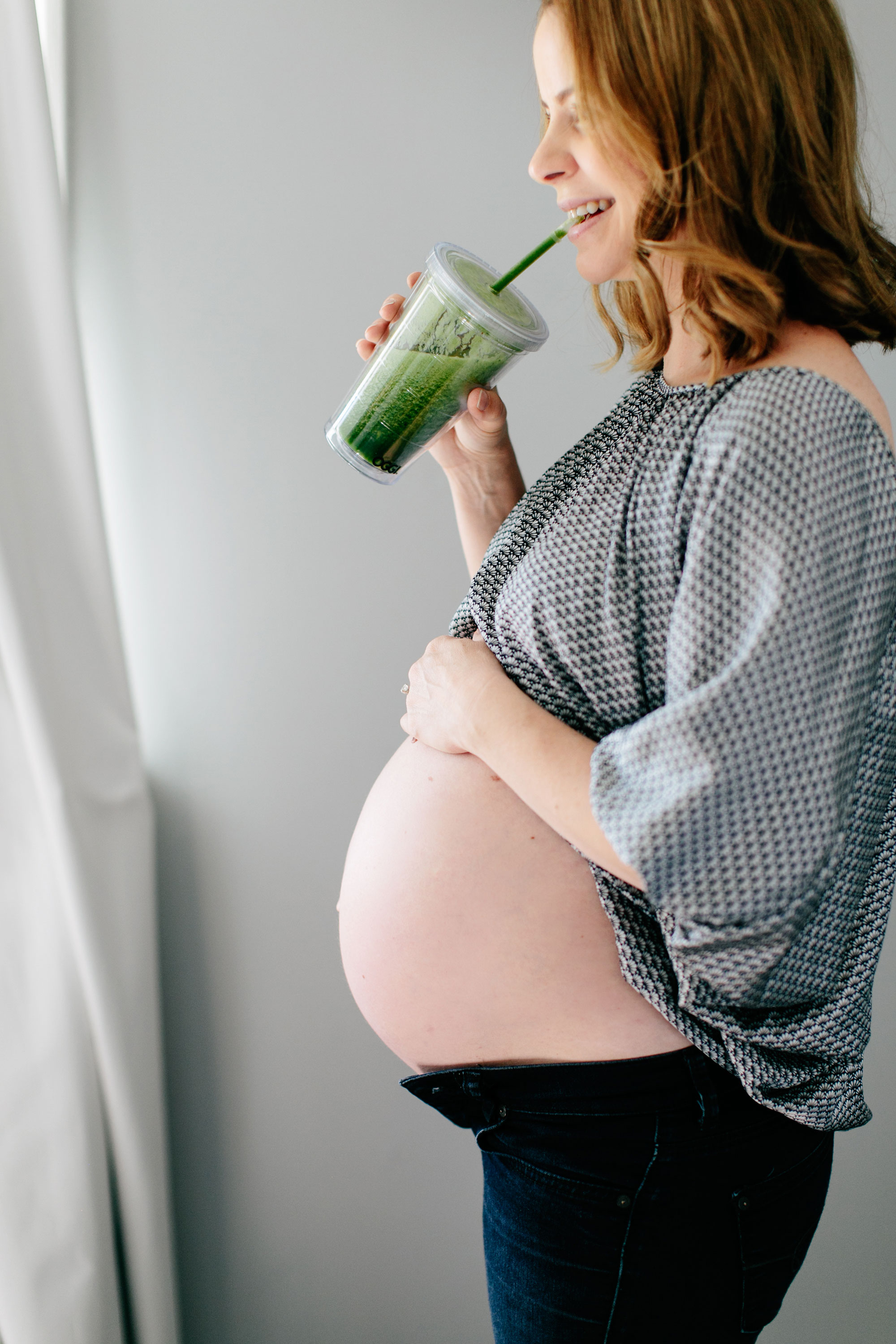 What is Gestational Diabetes ?
It is a myth that only overweight women will get GD, having a higher BMI puts you at greater risk, but any pregnant woman can develop it. It is also fiction that eating too much sugar will cause gestational diabetes, however nutrition does play a big part in preventing and managing GD.
During pregnancy certain hormones make it harder to absorb insulin. All pregnant women need to produce extra insulin, but some women can't produce enough to compensate – which results in GD.
How is it diagnosed ?
Gestational diabetes is diagnosed using an oral glucose tolerance test (OGTT). Your Doctor will refer you to have this done at a pathology lab. You will need to fast overnight before having this test. Blood will be taken to check your fasting blood glucose level. After this, you will be given a sugary drink and have your blood tested one and two hours later. You will be asked to sit and wait between tests. If your blood glucose level is above the normal range at your fasting, one or two hour test, you will be diagnosed with gestational diabetes.
How do you manage GD ?
Gestational diabetes can often be managed with effective nutrition and regular physical activity. However, some women may need medication (metformin) and/or insulin injections to help manage gestational diabetes.
If you are not sure to start with safe and effective exercise during pregnancy – check out my FREE fabulous guide to Pregnancy Exercise here.
I am also so excited to have connected with a world renowned Nutritionist / Dietician with the most up to date and nutrition guidelines for gestational diabetes, guidelines that are all evidence based…read on.
Nutrition for Gestational Diabetes
It can be overwhelming if you have recently been diagnosed with gestational diabetes or have a family member with gestational diabetes.
Don't panic with the right nutrition and exercise you can easily manage your blood sugar, maintain the right amount of weight during your pregnancy, and give birth to a beautiful, healthy baby.
Lily Nichols is a Registered Dietitian/Nutritionist, Certified Diabetes Educator, researcher, and author with a passion for evidence-based prenatal nutrition. Drawing from the current scientific literature and the wisdom of traditional cultures, her work is known for being research-focused, thorough, and sensible. Her bestselling book, Real Food for Gestational Diabetes presents a revolutionary evidence based approach for managing gestational diabetes.
Real Food for Gestational Diabetes is a fantastic guide for any woman navigating GD, as it embraces nutrient-dense and delicious foods that nourish you and baby without causing high blood sugar.
Lily's work has not only helped tens of thousands of women manage their gestational diabetes (most without the need for blood sugar-lowering medication), but has also influenced nutrition policies internationally. Lily's clinical expertise and extensive background in prenatal nutrition have made her a highly sought after consultant and speaker in the field.
With the wrong information (or no information at all), far too many women are left alone struggling with erratic blood sugar and excessive weight gain, often leading them to high doses of insulin or medications and difficult births.
Sadly, this often happens despite many Mums-to-be dutifully following the dietary advice given to them by well­-meaning clinicians. Too often a restrictive diet leaves them feeling unsatisfied, unhappy, and confused about ever­ increasing blood sugar numbers. I have personally seen many of my own clients struggle with this !
In Real Food for Gestational Diabetes, prenatal nutritionist and diabetes educator, Lily Nichols, sets the record straight, offering revamped carbohydrate recommendations based on the latest clinical research.
Lily proves that you can have gestational diabetes and have a healthy baby.  With this book, you have the tools (including meal plans) to turn this diagnosis into a blessing in disguise. Grab your copy today !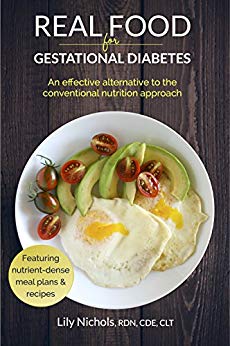 The Facts and Fiction about Gestational Diabetes
A big baby will make you more prone to GD ?
If gestational diabetes is carefully managed you can have a safe pregnancy and healthy baby. However if too much sugar is in the mother's blood and crosses into the placenta, the baby's growth in utereo can be larger than average. This can make birth more difficult and a c-section more likely.
Your baby's health can be affected by GD ?
Women who improve their nutrition and physical activity during pregnancy when diagnosed with GD can give birth to healthy happy babies. However if a baby is affected by high blood sugar during pregnancy they can be born with low blood sugar and or jaundice.
Is it essential for all women to get tested for gestational diabetes during pregnancy ?
Yes – as babies born to mothers with undiagnosed or un-managed GD are at a higher risk of obesity and type 2 diabetes in life.
Will gestational diabetes make you diabetic for life ? 
Most women, when diagnosed with GD, if they manage their nutrition and exercise effectively during pregnancy they will NOT have diabetes post pregnancy. However, they do have a greater risk of developing type 2 diabetes in the future if their healthy habits are not maintained.
If you have recently been diagnosed with gestational diabetes please read the evidence based nutrition plan in Real Food for Gestational Diabetes and discuss this with your medical practitioner.
This post contains affilate links, this provides a little income, at no additional cost to you. And allow me to devote time and energy to the growth of Bodyfabulous.
You have my word – I will only promote products and services I personally use or can recommend without hesitation. Integrity is important to me, plus your health and wellbeing is paramount. 
xx Dahlas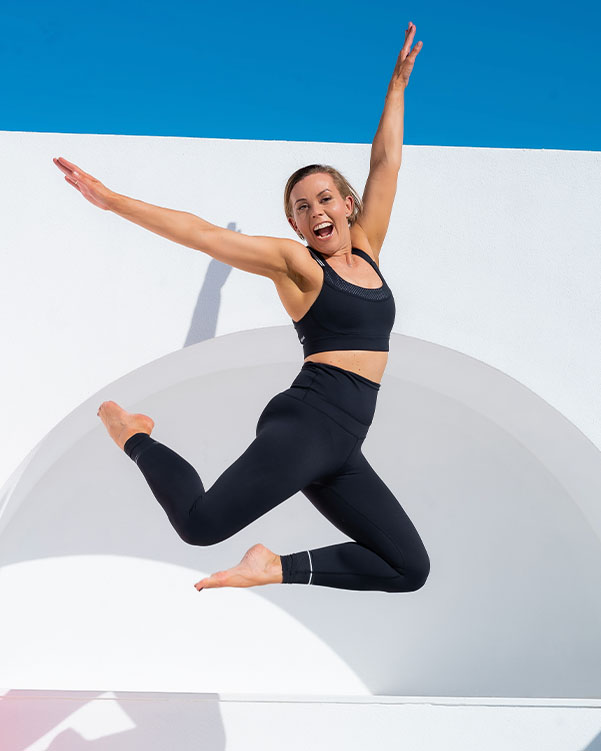 Dahlas Fletcher is one of Australia's most respected and successful certified and experienced Pregnancy and Female Fitness Trainers. Her goal is to help you be the happiest, most fabulous version of yourself, inside and out.