From the size of an olive, your growing baby has had you captivated and delighted and with a palpating heart, budding limbs and flourishing lashes.. what could offer a more wonderful preoccupation?
The early weeks and months of pregnancy afford incredible wonder, however, as pregnancy advances and fatigue grows, it's no wonder the romance begins to wane.
For all the pleasure that pregnancy brings, the final stretch can sometimes feel more like a struggle for survival. So, how do we make the most of the final stretch?
Here are some thoughts by Mum of 6, copywriter and childbirth educator – Lucy Lou …
Make sure you get a record of yourself
You might be loathing your mammoth state right now, but not long from here, you'll look back with split-personality-type adoration at how wonderful you really were.
Do yourself a service, and make sure you have a good record of just how round and wonderful that tummy once was.  In the years to come, your kids will be ROTFL at the hilarity of how ginormous you once were, with themselves inside you.
Photograph yourself, video yourself, cast yourself… You'll thank yourself !
Rest
You're probably itching to dust your top shelves and bleach every known surface to man, but don't.  Just don't.
It's very reasonable for nesting instincts to kick-in about now, but resist those urges to go all-out.
Spoiler: You're going to need as much energy as you've got to give birth, so preserve it. Trust me this is the biggest workout of your life !
If your mad-house nesting instinct is obstinate, direct it toward something that you'll thank your sweet self for later…. like freezer friendly meals.
Enjoy your partner
Remember them? The one you fell head-over-heels for ? They're still there and are probably hoping they haven't lost you to your budding foetus forever.
Relish this special (and limited) one-one-one time together.  Bask in the fun that this crazy season brings. Dream together about what your future holds, as it might be a while before you get this precious time, just the two of you, again.
Finish Work – early enough !
I know your bank statements can dictate this one, but, if you can, finish work with plenty of time to spare.  You'll never get this time back… 'I wish I worked longer', said NO mother. Ever.
One of the benefits of not being in a busy office space, is you can spend the day speaking to your tummy without looking like a crazy lady.
Your baby by now will be totally familiar with your voice and it will be one of the consistent comforters after it migrates earth-side. Your partner's voice will be pretty sweet too and will aid in their post-birth bonding.
Spend time with family and friends
Have copious cups of uninterrupted hot tea and indulge in lengthy conversation with family and friends, as these will become scare once bub arrives.
Special friends and family may very well have been front row and center in your life up until now, but as soon as bub turns up, these gorgeous people in your life will likely be stripped of your attention.. for at least a little while.
Don't forget to have a Baby Shower
This is a MUST.
Don't forget to celebrate baby's imminence with one of these.   Wait too long and your littlest companion will attend this soiree and steal your thunder.  Don't wait for lack-lustre to set in either, plan early enough, so you can enjoy !
Not sure where to start or what you need. Here are some perfect new mum essentials that make amazing gifts you can share with your friends and family to get the party started !
Pamper Yourself
You're freakin' spectacular and your body has been working like a boss, love on it a little and give it a pampering. You could head to your nearest day-spa – certainly don't pass up this opportunity ! But if you're keen to achieve the same without the outlay…
Snuggle down with a heat pack and a blanket and watch a chick flick; pop some bubbles and essential oils in your tub – here are some fabulous ones for pregnancy. Relax and have a wonderful soak (but don't slip!).
Don't have a bath ? Why not indulge in a gorgeous scrub in the shower. This one is my favourite – all natural, Australian made and no nasties !
Stretch, breathe and move your body
The last stage of pregnancy is not the time to embark on an intensely active exercise routine. However focusing on your posture and mobility can help you prepare for labour and enhance your recovery. As…yep once bub arrives your posture will probably be the last thing on your mind ! Hot tip – did  you know effective alignment and posture is one of the best ways to avoid the dreaded postpartum "mummy tummy".
If you are looking for some gentle exercises. Try some of these safe and effective core exercises.  Focusing on your breath, specifically core breath is going to be an essential tool you can use during birth plus will help you effectively recover post birth. Learn more.
With all that's been going on and all that you need to do, sometimes we can forget what it is in this final trimester you are achieving…..
You're accomplishing much, and during this last stretch time is certainly not wasted.  Your baby continues to be nourished as her final development is completed – she's probably laying down some fabulous folds of fat whilst kicking back and enjoying her final days and weeks in that wonderful womb she calls home.
Enjoy these last few weeks and remind yourself of all that you've done and all that's yet to come. I'm excited for you. You can do better than survive! Thrive!!
Hugs into the ether….
LucyLou #lucylouhercus
Lucy Hercus is a Mum of six fabulous kids and foster mum to numerous others.  Copy writer, editor, event manager, doula, childbirth educator and an encourager of all mums out there giving it their best crack !
I love how Lucy encourages us to share with each other our mum-stories to normalise all that it means to be a mother and to encourage each other to keep doing our best in this most wonderful marathon. Find her at Lucylou.com.au
xx

P.S Registrations are NOW open for my online pregnancy and postpartum membership THE BFAB METHOD, starting soon ! Make sure you get on the list so you don't miss any early bird offers. Register here.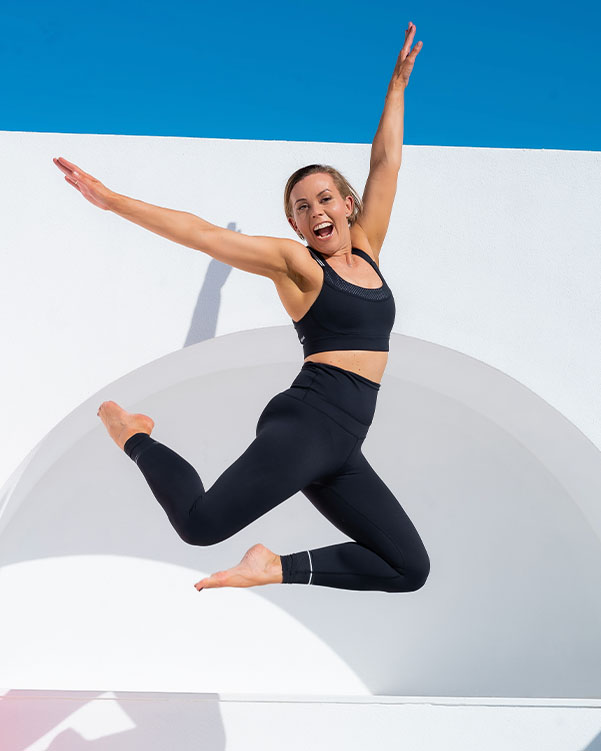 Dahlas Fletcher is one of Australia's most respected and successful certified and experienced Pregnancy and Female Fitness Trainers. Her goal is to help you be the happiest, most fabulous version of yourself, inside and out.