It is so important to ask an experienced Certified Trainer or a Medical Professional questions about Pregnancy and Post Natal exercise. Please don't just jump online and ask "Dr Google" there is too much information out there that is not correct.
Here are a few of the questions I am regularly asked …
Can your sessions help with labour and delivery?
Absolutely ! Research has shown that the right exercise during pregnancy can certainly shorten the second stage of labour and improve recovery. Women who are fitter and have gained less weight cope better and are more likely to avoid a ceasar and episiotomy in labour. We also focus on some fantastic moves you can do during labour and for post birth recovery. Read some fantastic reviews here.
Can you please tell me if you can strengthen your pelvic floor muscles post pregnancy, or are they gone for good?
You can definitely improve the strength of the pelvic floor post pregnancy with specialised pelvic floor exercises – and that does NOT just mean Kegels ! Your pelvic floor is just like any other muscle in your body so needs daily "training" to work effectively and efficiently.
Feedback from women who do my Bodyfabulous sessions, report great results whether pregnant or postnatal. The pelvic floor exercises I focus on, are functional. Meaning they will help you during and after pregnancy with all your "mum moves" including picking up bub, pram's, grocery bags etc.
For best results you should start pelvic floor exercise during your pregnancy and continue after – to avoid any problems post pregnancy. Once you have had your baby I highly recommend you see a Women's Health physiotherapist before returning to exercise so they can fully assess you. Just because your Dr may give you clearance at 6-8 weeks post birth, does not mean you have fully healed !
Many women do not realize this and return too quickly to strenuous exercise post birth, that can trigger incontinence or a prolapse. So please educate yourself, rehab before you retrain ! Find out more here at Pelvic Floor First.
When is the right time to return to exercise after giving birth? I heard 6 weeks for a natural birth and longer for a ceasar?
I always recommend you consult your Doctor or Medical prior to returning to exercise. Post birth you are normally booked in for a 6 – 8 week check up with your medical practitioner then prior to commencing exercise, as mentioned above, please see a Women's Health Physio for a full assessment.
A delivery with no tears or cuts usually means you can return sooner than one where you needed a c-section or an episiotomy. You must have clearance from your medical practitioner before commencing any training with Bodyfabulous post birth or if you have any medical conditions during pregnancy. Your safety and your baby's safety is my priority. For at least three months after your return to exercise you will need to do modified exercise before increasing intensity. At Bodyfabulous I will provide you with specialised exercises to achieve this. All exercises will be modified depending on your own labour and recovery and we will focus on you healing from the inside first before increase your intensity in a safe and effective way.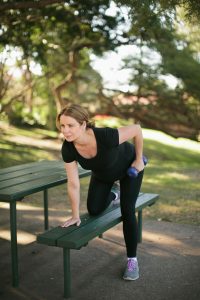 Do you just do Pilates and Yoga, will I get a workout?
Bodyfabulous is not just about Pilates/Yoga. After working for over 15 years as a fitness trainer then becoming pregnant with my own 3 children I found it very hard to find a specialised pregnancy program. I wanted a total bodyworkout that was safe and effective that included cardio and functional strength exercises, that would get you fit and strong for labour, recovery and the challenges of early motherhood so I developed Bodyfabulous.
Join me in my Private Facebook Community #BFABSQUAD for FREE live workouts, expert tips and nutrition guidance.
I also offer personal training or group personal training with Bodyfabulous and Skype sessions if you live remotely. Contact me here.
Why do you recommend 10 PT sessions ?
I offer a Bodyfabulous personal training pack of 10 sesssions as during this time you will learn exercises that we will build and progress on each week. Plus you will receive "homework" that you can do outside of our sessions. You will receive a personalised  training program that you can do on your own, during and after pregnancy. In my experience, it takes about 30 days to change a habit- if you're focused and consistent. 10 sessions over approximately 10 weeks, will provide a comprehensive focus on you and your baby's health and wellness you are more likely to make changes that you will continue for life. I also offer a 1 off personal training package. Where we can meet for 1 session and I design an exercise and nutrition program for you to do after on your own. For further details about Personal Training Pricing please enquire here.
What are the best exercises to do to try and firm up that belly again?
If I had a dollar for every time I am asked this question I would be a billionaire ! There are two parts to returning your core to good shape. In the first instance you must ensure you have done safe and effective exercises DURING pregnancy. Your pelvic floor is the foundation of your core. So if this is given daily attention during and after pregnancy your core will recover much better post birth. Learn more here.
Research has shown Women who exercise correctly when pregnant will return to shape faster and more effectively than those who do not. Secondly you must remember a lot of the baby belly is loose skin that can take up to a year to firm up. All women will have abdominal separation or Diastasis Recti  during and after Pregnancy. However with the right exercise and correct nutrition during and after pregnancy it is possible to return stretched tummy muscles to normal or close to normal. All my Bodyfabulous sessions focuses on vital core exercises and nutrition. If you are concerned about abdominal separation I highly recommend you see a Women's Health Physio. I am happy to provide some Physio referrals – just send me a message here.
Should I just do pilates and yoga during pregnancy, as I need to keep my heart rate stable?
Yoga and Pilates are exercises that are not developed for pregnancy but modified for pregnancy. You may definitely do modified forms of the pilates and yoga as long (as with any forms of exercise) if you are under the supervision of  instructors who have studied pregnancy and are specialists in this field. If you choose these forms of exercise please also make sure you are doing additional forms of functional strength training and cardiovascular work so that you are improving your fitness and endurance (keeping your heart fit) – trust me they don't call it labour for nothing ! Plus with all exercise you please nourish yourself properly to truly reap the best results during and after pregnancy. ACOG also advises that the best way to monitor your heart-rate during exercise is to ensure you can hold a conversation, it is a myth that you need to wear a heart rate monitor ! Read more about these myths here.
I heard I can't do abdominal exercises when pregnant is this true?
This is another one of the many myths and old wives tales of exercise during pregnancy. Abdominal exercises are essential for back and pelvic support and to help retain shape of the tummy. Please don't just do abdominal exercises such as sit-ups or planks during pregnancy ! Here is why. At Bodyfabulous I focus on safe pre and postnatal abdominal pregnancy exercises. The foundation of your core is your Pelvic Floor – so this is our key priority for abdominal work.
I like to go on long walks and power walk is this ok when I am pregnant?
Excessive walking is actually not the best exercise for pregnancy. Women who walk too much during pregnancy are at a higher risk for pelvic instability and back pain. You will find more information here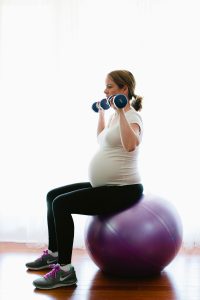 Are the exercises you do using a fit-ball high impact and if so isn't this bad for me?
Any exercises I do are with medical grade fitball, these are much more supportive than a normal lower grade fitball. These are also the same fitball's used in labour wards and are also correctly sized to ensure controlled impact and prevent hip and lower back pain. The shape of the ball offers pelvic floor support and stimulates core abdominal muscles. The ball actually has no impact at all and all moves can be modified to your comfort and conditions. I do this to ensure you will get safe workout releasing endorphins and increasing nutrient dense blood flow to your baby.
Want to learn more ? join me for FREE live workouts here.
What are the key exercise areas I need to work on in pregnancy?
You need a balanced workout of both cardiovascular and strength training together with stretching and mobility exercise. Find out why here.
How common is the separation of abdominal muscles and how can I tell if I have it ?
Abdominal separation (or diastatis recti) is totally normal. All pregnant women need their abdominal muscles to move apart to accommodate a growing baby. After you give birth it is best that you see a Women's Health Physiotherapist who can assess you and tell you if you have a separation. Abdominal separation is very common and can be reduced safe and effective exercises. I focus on safe abdominal exercises during all of my Bodyfabulous sessions. Learn more here.
I have had a miscarriage, is it ok for me to exercise?
If you are a high risk pregnancy and have experienced multiple miscarriages, you will need medical clearance from your Doctor to exercise.  Normally by the second trimester your doctor will allow you to return to exercise in a specialised form (ie with a certified pre/postnatal trainer) unless you have a medical reason you cannot exercise. You should know that exercise is not linked to miscarriage and I do screen clients individually to establish their suitability to exercise. I completely understand your concern, I experienced a miscarriage before my second pregnancy. Please understand that most women who have experienced miscarriages (1 in 3 pregancies) then come do my sessions and never have any problems. However please feel free to contact me  to discuss any of your concerns.
How do you find some time everyday to exercise? I feel so sleep deprived!  Can you help?
I hear ya sista ! As a busy mother of 3 young children I totally understand sleep deprivation and exhaustion. Please keep in mind that exercise will  increase you energy levels and help you deal better the nights of limited sleep. Most of all try to make time for yourself first, a conscious decision to take care of yourself then everything follows much easier. Try to give yourself 20 mins of exercise a day. Get out with the baby and if you do not want to get out of the house do home exercise video- even if you don't get through all if it something is better than nothing ! Don't be afraid to ask for help with your baby so that you can have some exercise time, as the fitter you are the better you handle less sleep. I am mobile so I run many of my PT sessions when Mum's are with bubs at home. And remember the " baby no sleep phase" won't be forever, try to stay positive and get to be early if you can. Read more here.
Should I exercise if I have morning sickness ?
Yes – is ok to exercise with morning sickness.  To get more energy and to feel more revitalised, you do need to expend a little energy. Light exercise is the perfect way to do this. I know how hard it is but women who do my sessions have reported feeling so much better when they do exercise. However if you are suffering from severe morning sickness – hyperemesis gravidarum. I recommend you obtain clearance from your Doctor before commencing any form of exercise.
Feedback.
Dahlas, I just wanted to say thanks for your fantastic sessions. I loved going the gym before falling pregnant but now it is difficult to know what I can and can't do. I love that I really feel I've actually done something when I've finished your workouts and that it is safely benefiting both me and my baby.  Lisa.
I love feedback, this is exactly what I hoped to achieve when I created Bodyfabulous.  My goal is a happy mumma = a happy bubba. You can read more testimonials here.
I am passionate about helping women enjoy safe and appropriate exercise so they can feel their physical and emotional best during and after pregnancy.
Learn more in the free #BFabSquad or don't hesitate to contact me
xx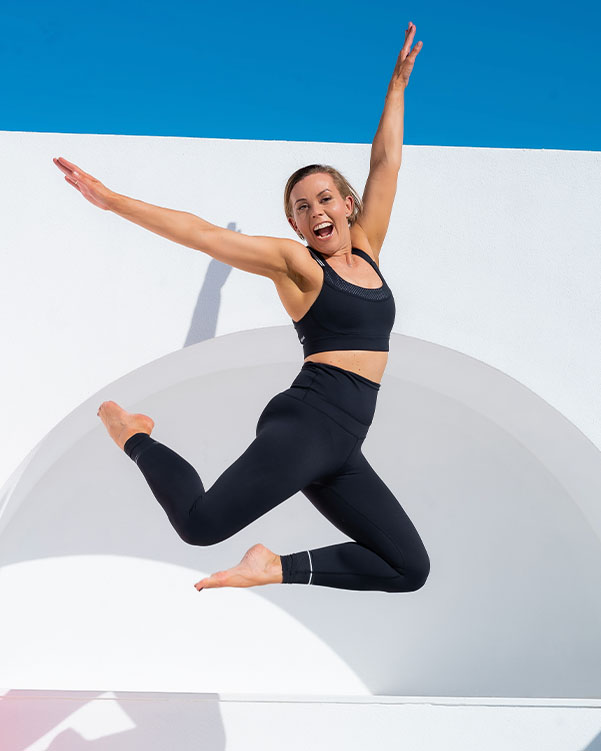 Dahlas Fletcher is one of Australia's most respected and successful certified and experienced Pregnancy and Female Fitness Trainers. Her goal is to help you be the happiest, most fabulous version of yourself, inside and out.