This nutrient packed Pad Thai recipe is a fabulous meal for during pregnancy or postpartum. It is a staple in our house as it is easy to make, a healthy alternative to take-away and the whole family loves it ! This recipe is great to re-heat for lunch the next day, if pregnant just remember to re-heat until your meal until it is steaming – to avoid the risk of listeria.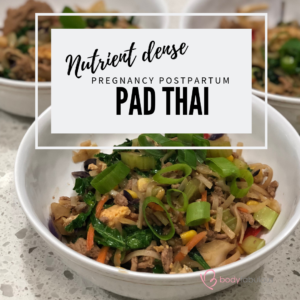 Recipe for Healthy Pad Thai
Ingredients :
500g of minced free range chicken or pork
1 onion diced
200 g wide rice noodles
1 carrot
2 celery stalks
1/2 red capsicum
1 cup bean sprouts
2 eggs whisked
2 cups baby spinach
1/4 cup peanuts chopped
2 stalks Spring Onions
Pad Thai Sauce
1 tbsp sesame oil
1/2 cup vegetable stock
1 tbsp soy sauce (gluten free for me)
1/4 tsp fish sauce alternatively, use miso paste or more soy sauce
Sesame oil
1/2 tbsp white vinegar
1/2 tbsp natural peanut butter
1 tbsp coconut sugar
1/2 tsp garlic minced
1/2 tsp ginger minced
1/4 tsp chilli powder optional
For serving 1 lime cut into wedges
Tip : Double the pad thai sauce recipe and freeze half for later (great to have on hand when postpartum /after your baby arrives)
Instructions – how to make nutrient packed pad thai
Boil kettle and pour hot water over rice noodles in bowl and let sit.
Mix all sauce ingredients together.
In a non stick fry pan or wok, add the sesame oil then add chopped onion cook until soft then add minced meat and let cook
Push mince to one side when nearly done, add a little more oil to pan then add whisked egg. Let cook then move to top of meat.
Add the mixed sauce ingredients to pan and saute lightly with meat and egg
Then add the finely sliced carrot, zucchini and capsicum, sauté until heated through.
Next add the noodles, spinach and bean shoots to the pan, mix well. Add a little more soy sauce to taste if needed.
Stir until well combined, serve with peanuts, spring onion on top with a wedge of lime on the side.
Looking for other ways to get more nutrients into your diet during and after pregnancy ? Grab my #freebie nutrition guide 
xx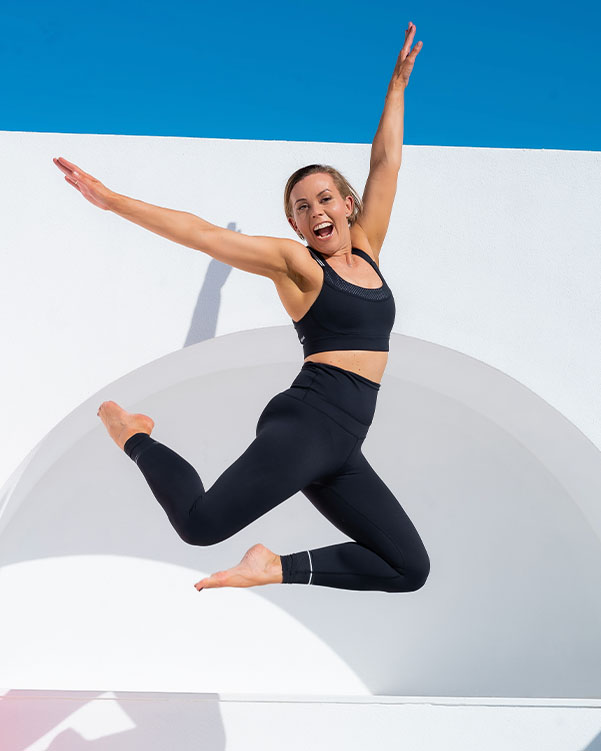 Dahlas Fletcher is one of Australia's most respected and successful certified and experienced Pregnancy and Female Fitness Trainers. Her goal is to help you be the happiest, most fabulous version of yourself, inside and out.