I would love you to join me in my Ultimate Pregnant Core Program. In this online pregnancy exercise program I will guide you through a step by step process to train your CORE during pregnancy with fun safe total body workouts.
I only take limited numbers so I can provide you with the most personalised program possible so don't miss out on the next intake !
The Ultimate Pregnant Core is my signature pregnancy program, designed so you not only get a fabulous comprehensive pregnancy program you can continue exercising safely and effectively post birth and throughout motherhood !
Tell me are you…
Overwhelmed by the advice you are receiving during pregnancy ?
Confused about what exercises you can and can't do ?
Frustrated that you can't exercise at the same intensity as before ?
De-motivated as you can't find time or just don't have the energy ?
Concerned about diastatis recti and pelvic floor dysfunction ?
Regardless if you are a fitness fanatic or first time exerciser, I have found when pregnant women contact me they are exhausted, overwhelmed and confused by the advice they received or read about working out during pregnancy – especially when it comes to their core.
They feel like they don't know where to start, how long they should exercise for, or if they have commenced exercising, they lack confidence and motivation – so are not doing it regularly. This can, affect their energy levels, their nutrition, cause injury and lead them to question their own worth. It can be really taxing, and it can take them on all sorts of downward spirals.
The Ultimate Pregnant Core Success Path
I am here to help you overcome the confusion and overwhelm. As what you actually need is just a PATHWAY or just a shift in how you approach exercise during pregnancy. And that starts with your CORE !
Because it's your secret super power..its strong and it's holding up your growing baby. So I my goal is for you to tap into this an connect with this amazing super power.
And it's all POSSIBLE with my ULTIMATE PREGNANT CORE program
Comprehensive Pregnancy and Postpartum Online Program
Effective, safe and moderate exercise during pregnancy can actually GIVE you MORE energy, a fabulous sense of well-being and better health for both you and your baby – for life ….
That will cost you less than your lunch !
Total body workouts that safely train your pregnant core
As a fully certified Pregnancy and Post Natal Trainer I am on a mission to help as many women as possible find clarity for staying healthy and cherishing their bodies during and after pregnancy.
That's why I am so excited to announce my Ultimate Pregnant Core Program – is now part of my BFABMETHOD is where I will personally teach you the secret of why pregnancy is the best time to train your core at very accessible price.
Science Says…⠀⠀⠀⠀⠀⠀⠀⠀
?Babies born to active mothers can have brain responses of a six to eight month old — University Montreal⠀⠀⠀⠀⠀⠀⠀⠀⠀⠀⠀⠀⠀⠀⠀⠀⠀⠀
?Women who exercised for 55 minutes, three days a week, were 34% less likely to require an emergency cesarean— British Journal of Spots and Medicine⠀⠀⠀⠀⠀⠀⠀⠀⠀
?The average time spent in the 'active pushing' phase of labour significantly reduced for women who performed regular pelvic floor and deep core exercises during pregnancy— Journal of Obstetrics and Gynaecology⠀⠀⠀⠀⠀⠀
Doors NOW OPEN so don't miss this opportunity to START your safe and effective pregnancy journey
I want you to be more confident and motivated for the challenges of pregnancy, birth, recovery and early motherhood. Plus ensure you are exercising safely and effectively so you are empowered and ready for the challenges of birth, recovery and early motherhood.
Here is what we cover inside the pregnancy program…
You are going to effectively and efficiently discover how to…
properly strengthen and heal your core
learn why more exercise isn't better and how to optimize movement for best results
improve balance throughout your body, core strength and overall full body strength
avoid pelvic floor dysfunction, back pain, hip pain diastasis recti.
be more confident, fit and strong for the challenges of pregnancy, birth, recovery and early motherhood.
enjoy exercises suitable for any trimester of pregnancy and for any level of fitness.
the fabulous secret for making long term progress even when you are tired, busy or de-motivated
how to nourish yourself and your baby with a Prenatal Nutriton Program by a Registered Nutritionist
Suitable for any Trimester of Pregnancy and any level of Fitness
As long as you have medical clearance to exercise.
Are you ready to exercise safely, effectively and efficiently during and after your pregnancy…for less than a cup of coffee a day ?
Do it for your baby. Do it for you !
Let's do this ! xx Dahlas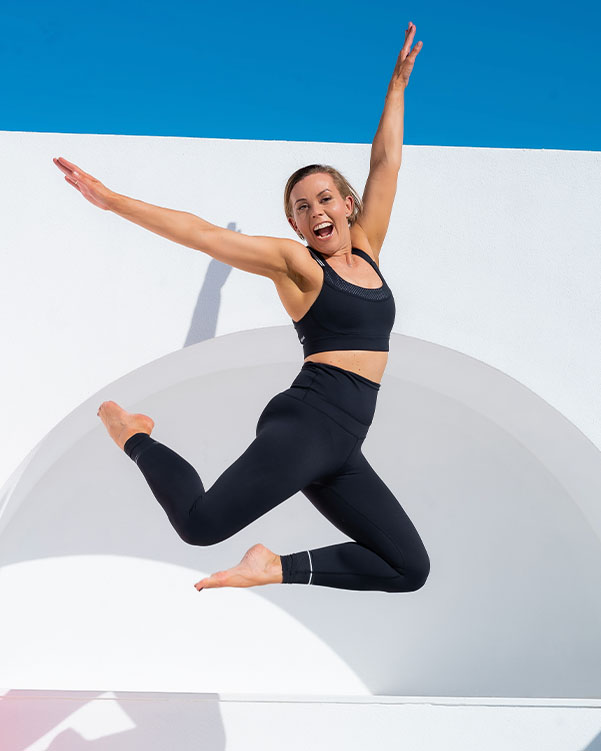 Dahlas Fletcher is one of Australia's most respected and successful certified and experienced Pregnancy and Female Fitness Trainers. Her goal is to help you be the happiest, most fabulous version of yourself, inside and out.