This topic should not be taboo, however discussing S.E.X after babies is something that is often avoided. Most conversations I hear from new mama's are about birth control, and rarely about some of the challenges that can emerge both physically and mentally when it comes to intimacy after birth.
Losing your mojo or being overwhelmed is OK
It is 100% normal and is incredibly common, so please don't feel alone. Let's understand some of the reasons WHY "bedroom time" can be incredibly challenging…
Stress
Constant Interruptions
Sleep Deprivation
Decreased pelvic floor awareness
Birth Trauma
Feeling 'Touched Out' from holding a baby all day
Discomfort down below
Loss of body confidence
Healing from birth
Incontinence
Breastfeeding challenges
To name just a few !
There are some things that can be done to improve intimacy after birth …
I believe exercise is a wonderful way to re-connect to your body (without depletion and exhaustion) and when this happens many of the items on the above list diminish.
This reconnection has to happen both physically and mentally

Remember –  the pelvic floor region is a massive intersection of muscles and ligaments so it will take time for your brain or neural pathways to reconnect to this area,  (read more here about neuroplasticity)
My unique fitness methods, yes by moving your body can be a solution for helping your pelvic floor (beyond just Kegels) and moving you closer to enjoying intimacy again !
What see a Certified Pregnancy and Post Natal Exercise Specialist ?
I have received comprehensive pelvic floor training during my pregnancy and postnatal exercise specialist certifications that 99.9999% of trainers unfortunately don't have.
Sadly most personal training certifications teach students about every muscle in the body except the pelvic floor !

This is why I chose to be mentored and certified by renowned Women's Health Physiotherapists. Plus after over a decade I still work closely with them to ensure the BEST outcomes for women of all ages around the globe !

This may sound unconventional, but it is an important part of the future of women's health and fitness. Which is a continuity of care on all levels for mothers (not just babies) after birth !

Our relationships with ourselves, our partners and the future of our daughters (and sons) will be impacted FOR THE BETTER if more women are educated and feel confident to talk about this

Want to chat further about this ?

Or need some guidance about getting assessed by a Women's Health Physiotherapist in your area ?
I am here for you !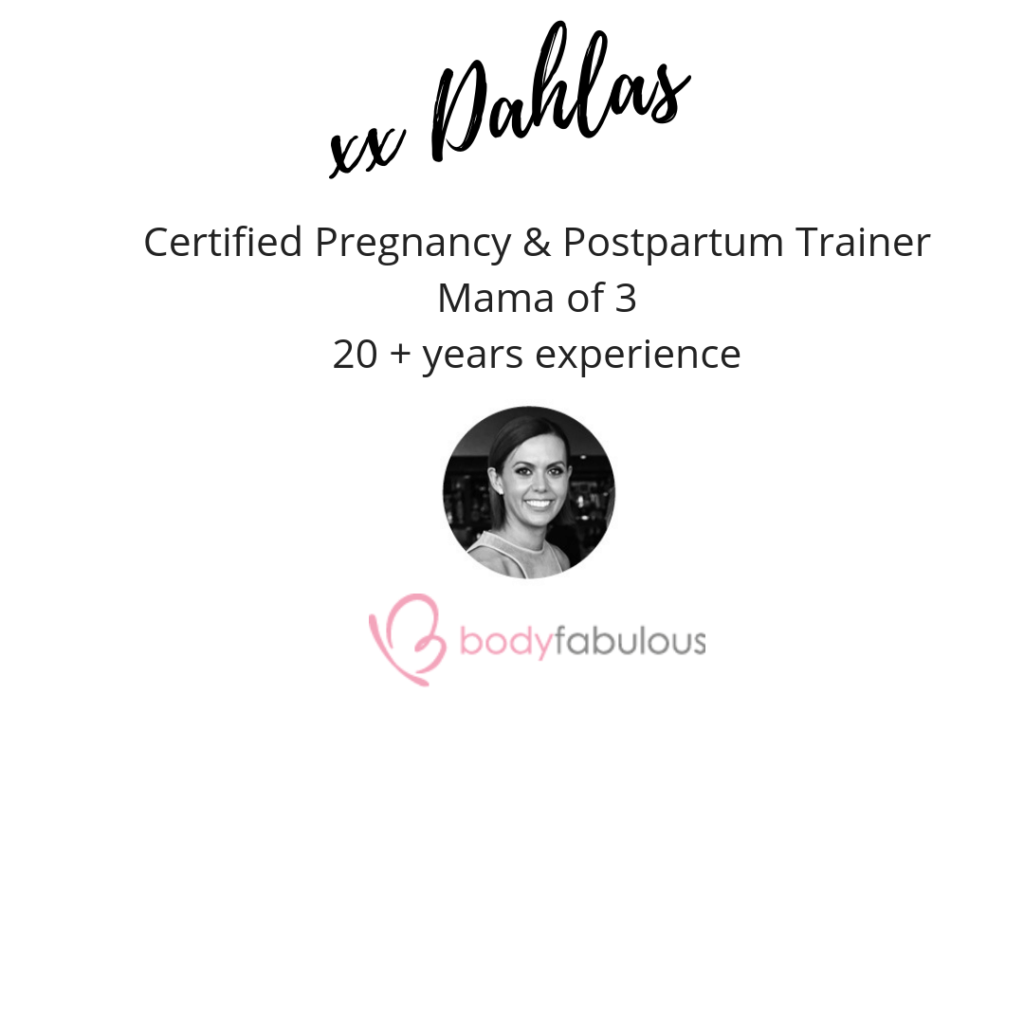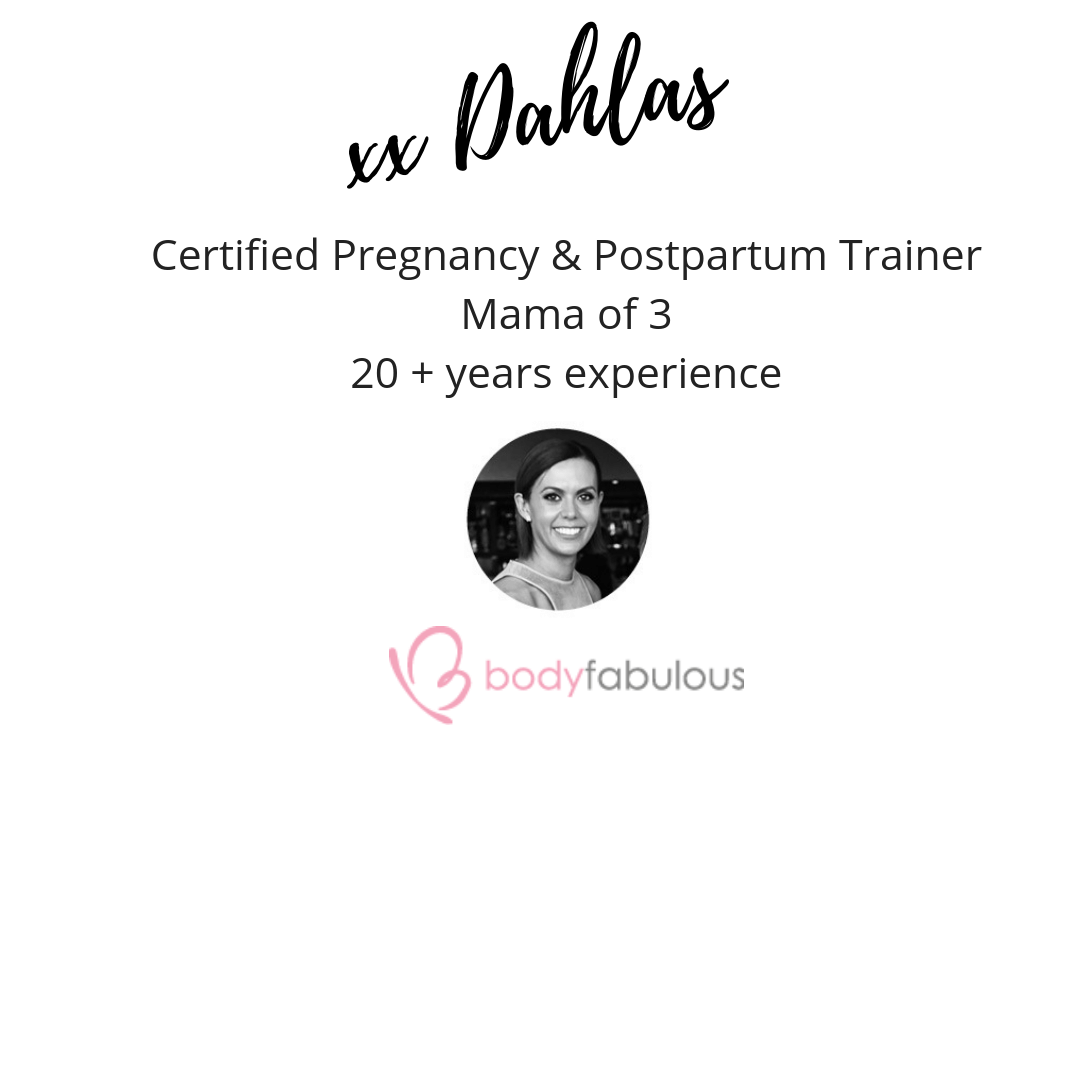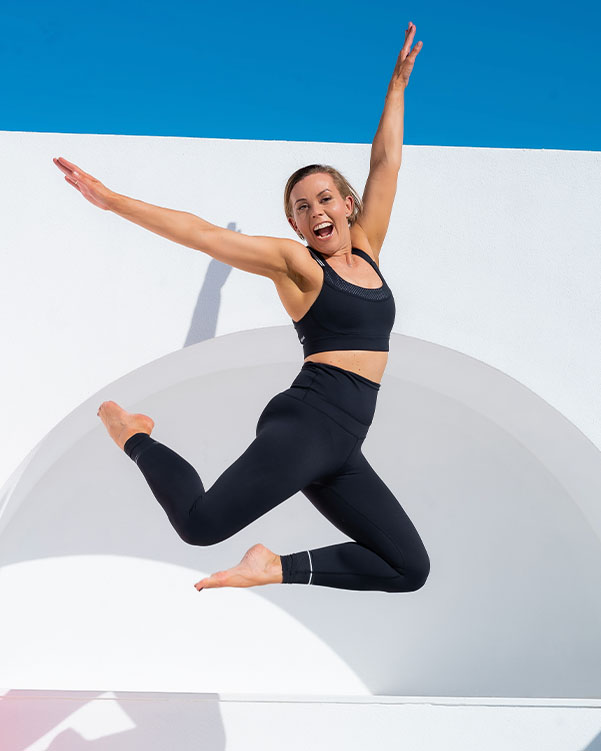 Dahlas Fletcher is one of Australia's most respected and successful certified and experienced Pregnancy and Female Fitness Trainers. Her goal is to help you be the happiest, most fabulous version of yourself, inside and out.